Medfly Quarantine Declared in Cities of Upland, Ontario, Montclair and Rancho Cucamonga
October 2021, San Bernardino County's Pest Detection staff found a Mediterranean fruit fly (Medfly) while performing a routine survey in the City of Upland. Due to the significant threat to California's environment, San Bernardino County partnered with the California Department of Food and Agriculture (CDFA) to increase detection surveys in the neighboring areas.
Upon further surveying, a second MedFly was detected in November 2021. A proclamation of Emergency Program was declared by CDFA and on November 16, 2021, a 95 sq. mile quarantine was enacted in Upland and its' surrounding areas.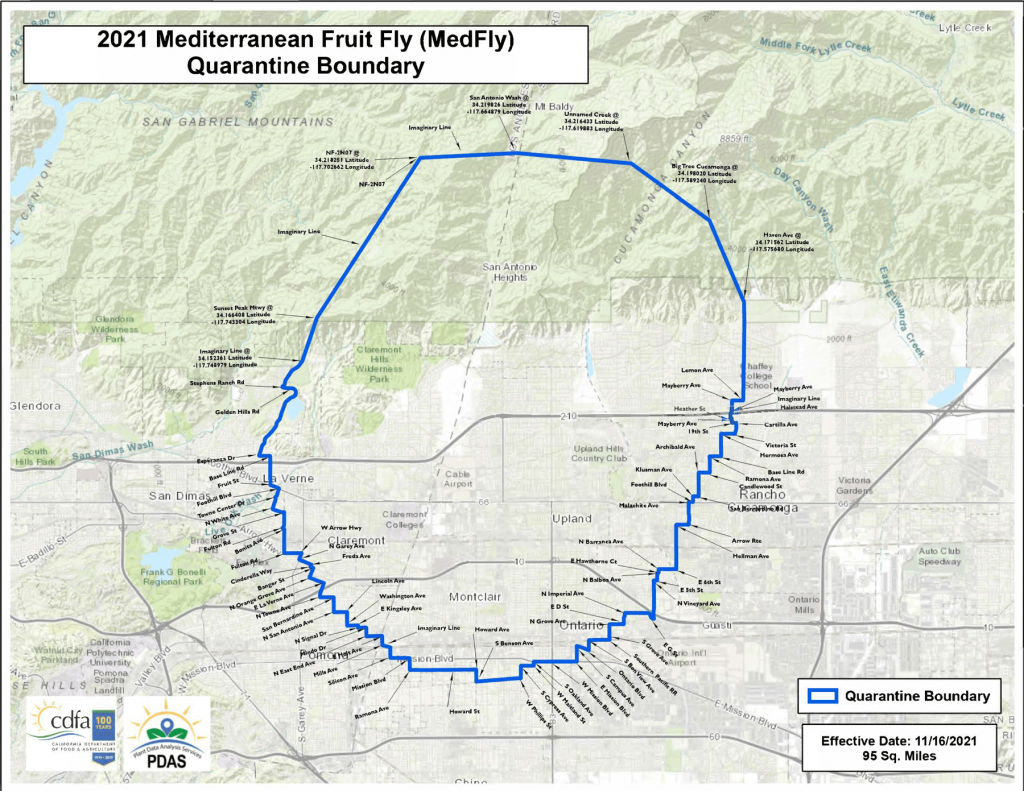 A link to the quarantine map may be found here:
Regulation and Quarantine Boundaries
The Medfly is recognized as one of the most serious agricultural pests in the world due to its' wide range of hosts, causing significant environmental and economic impact. The Medfly causes damage by laying its' eggs in host fruit, allowing the eggs to hatch into larvae, which then feed on the pulp of the fruit.
It is thanks to the quick action taken by San Bernardino County Agriculture/Weights & Measures staff that CDFA was able to effectively implement a response to the introduction of MedFly.San Bernardino County and CDFA have worked tirelessly to eradicate Medfly in the quarantine area by collecting host fruits, surveying for larvae, applying foliar bait treatments, and releasing sterile medflies that mate with the introduced population to prevent the production of viable offspring.
Residents within the quarantine area are urged consume or process their produce at the property of origin to prevent the spread of fruit flies. If not consumed or processed, the fruit may be disposed by double-bagging them in plastic bags and placing the bags in the garbage bins.
Residents who believe their fruits and vegetables are infested with fruit fly larvae are encouraged to call the state's toll-free Pest Hotline at 1-800-491-1899.
If you have any questions, please contact the San Bernardino County Agriculture/Weights & Measures office at 909-387-2157.
California Department of Food & Agriculture