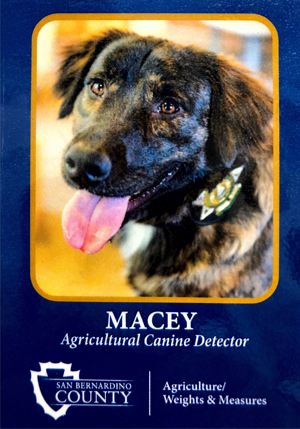 Meet Agricultural Canine Detector Macey
San Bernardino County has a canine detection team inspecting packages at parcel delivery facilities like FedEx, UPS and USPS. When potentially illegal agricultural products are sent to California in unmarked packages, the only way we can find out whether they contain agricultural products is to employ a powerful nose.
Macey was rescued from the Montgomery Humane Society by the USDA where she was trained at the National Detector Dog Training Center in Newnan, GA. Macey is trained to smell packages in the mail for plant material that could be infested with pests that can harm California's agriculture.
Macey began working with her handler, Kristina Cummings, in San Bernardino County in October 2018. Macey will scratch at parcels to alert her dog handler officer that the package contains agricultural products. The package is then opened and inspected to determine if the agricultural products inside are allowed entry into California.
When Macey isn't hard at work, training or going on the road for her re-certifications, she loves her belly rubs, taking a bath, her chew toys and most of all, snacks. Because Macey is a working dog, she cannot mix with other pets so she gets lots of attention from her handler and coworkers.
Breed: Mixed Breed
Birthdate: October 2016
Weight: 55 lbs.
Handler: Kristina Cummings
Favorite Toy: Squeaky stuffed animals