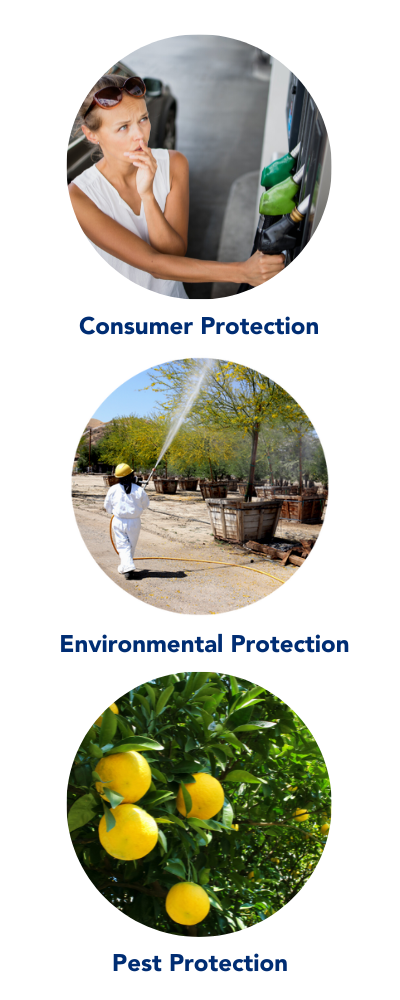 A Message from the
Commissioner/Sealer
Welcome to the San Bernardino County Agriculture/Weights & Measures Department Website.
The Department of Agriculture/Weights & Measures conducts regulatory activities and provides services to promote and protect the agricultural industry, businesses and consumers in the County. The department conducts these activities through the fair and equitable application and enforcement of State laws and regulations.
Our mission is to protect and promote agriculture, natural resources and the quality of life in San Bernardino County for residents and businesses. To accomplish this, we at the Agriculture/Weights & Measures Department work with the California Department of Food and Agriculture, California Department of Pesticide Regulation, United States Department of Agriculture and the United States Environmental Protection Agency to meet the needs of our community.
The Department is divided into three Divisions that provide a variety of services and inspections: Consumer Protection, Environmental Protection, and Pest Prevention.
The programs are designed to protect and promote the health and welfare of our residents and businesses.
Consumer Protection – Weights & Measures Programs, Certified Farmer Markets and Producers, and Fruit & Vegetable Quality
Environmental protection – Pesticide Use Enforcement and Invasive Weed Eradication
Pest Prevention – Pest Exclusion and Pest Detection Programs
Please explore our website and take advantage of the information it contains. We welcome your suggestions on how we can improve our services and provide you with the information that you need.